Time for health security agenda, Where do we stand on COVID-19
IECM Webinars
February 4, 2021 - 15:30 - 16:30
Topic Description :
Time for health security agenda, Where do we stand on COVID-19
Learning Objectives:
Lockdowns, zoning, and containment, words with which public health has largely stood dissociated with from for almost last 100 years or so, have come to be identified as part of public health strategy to mitigate the impact of the COVID-19 pandemic. Is this really the answer to the pandemic?
Do these measures really fall in the larger domain of public health or are these a part of largely administrative response to the COVID-19 pandemic?
Understanding Global health security agenda in context of COVID-19 pandemic.
Vaccine politics and health security.
Developing national health security agenda.
Speaker :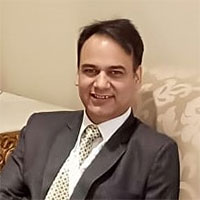 Dr. Sunil Raina
Head, Dept of Community Medicine.
Tanda Medical College, Himachal Pradesh
India
About the Speaker
Dr. Sunil Raina is currently working as Professor and Head, Department of Community Medicine at Dr. RP Govt. Medical College Tanda (HP). He is also the Nodal Officer for Multi-Disciplinary research unit at Dr. RP Govt. Medical College Tanda (HP). In addition, he is the Vice-Chair for Operation Research, State task force on RNTCP besides being a member of state research committee.
Dr. Sunil Raina has been and continues to be involved with Thirty (30) funded research projects as Principal Investigator, Co- Principal Investigator and Co- Investigator. Dr. Raina has two hundred and Seventy (280) research publications in peer reviewed national and international journals to his credit. Dr. Raina has been included on the panel of experts for high altitude medicine for the Govt of India initiative (Vaishwik Bharatiya Vaigyanik Summit- VAIBHAV SUMMIT 2020)
He has been instrumental in starting Organized Medicine Academic Guild (OMAG), a conglomerate of major specialist health associations in India. He was awarded the Lung India award for best paper in the year 2013 and the "Swasthya Neeti Samman" at Colombo Sri-Lanka in the year 2017 for his contribution to global health security. He is external reviewer for Research Grant Council Hongkong and Indian Council for Medical Research.
Supported By