The role of In silico simulation in drug design and development of antiviral protease inhibitors
DUPHAT Webinars
May 23,2021 - 16:00 - 17:00
Topic Description :
The role of In silico simulation in drug design and development of antiviral protease inhibitors
Learning Objectives:
Describe the role of NS protease in virus life cycle and polyprotein processing.
Discuss NS protease enzyme as possible antiviral drug target
Identify the drug design strategies for NS protease inhibitors (in silico vs ration drug design)
Discuss NS protease as possible drug target for SARS – CoV-2
Speaker :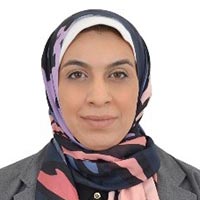 Dr. Eman M. El-labbad
Assistant Professor Pharmaceutical Chemistry
Department of Pharmaceutical Sciences,
College of Pharmacy -Gulf Medical University
Bio:
Eman Moussa El-labbad, Assistant Professor of Pharmaceutical Chemistry at Pharmaceutical Sciences Department, College of Pharmacy, Gulf Medical University, Ajman, UAE since January 2020.
Eman had started her research and academic career in 2006 as teaching staff and postgraduate student in Pharmaceutical Chemistry Department, College of Pharmacy, Ain Shams University, Cairo, Egypt Where she progressed in her career with major interest in organic chemistry, computational chemistry, medicinal chemistry and drug design.
During 2014-2017, Dr. Eman was awarded Joint supervision PhD grant from the Egyptian Ministry of Higher Education where she was hosted by Prof. Dr. Binghe Wang in chemistry department, College of Arts and Science, Georgia State University, Atlanta, USA. Dr. Eman worked in Dr. Wang's lab on gasotransmitters projects specifically on applying click chemistry to design and synthesize SO2 prodrugs with tunable release rate.
Eman research involve the design and synthesis of new organic compounds having potential pharmaceutical application with focus on antiviral, anticancer and gasotransmitters. In addition to the application of computational chemistry in silico prediction of the mechanism of action of newly identified natural products and immunoinformatic analysis fungal/bacteria secretome.