The Role Of Immunotherapy In The Triple Negative Breast Cancer
IECM Webinars
February 8, 2021 - 19:00 - 20:00
Topic Description :
The Role Of Immunotherapy In The Triple Negative Breast Cancer
Speaker :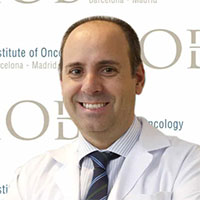 Dr. Javier Cortés
Head of the Breast Cancer Unit
Teknon Medical Center
Barcelona, Spain
About the Speaker
Dr. Javier Cortés has a degree in Medicine and Surgery from the Autonomous University of Madrid in 1996. He continued his studies at the University of Navarra, specializing in Medical Oncology at the University Clinic of Navarra. Since 2003 he has worked in the Department of Medical Oncology of the Hospital Vall d'Hebron in Barcelona, where he has been Coordinator of the Teaching and Training Program for Residents in Oncology and Senior Specialist in the Breast Cancer Area with special interest in Development of New Medicines.
Head of the Breast Cancer Unit in Teknon Medical Center, Dr Javier Cortés is one of the most active doctors in Spain and one of the most renowned in all of Europe. It has been part of the development of the 4 drugs approved for metastatic breast cancer in Europe over the last 5 years. Active member of the Spanish, European and American Societies of Medical Oncology (SEOM, ESMO, ASCO) and member of the Scientific Committee of the European Society of Medical Oncology.
With a true passion for treating patients, he cares deeply about the patient's experience and cares about improving their quality of life. He hopes to cure the majority of breast cancer patients in the coming years and to this end is actively involved in cancer research. He is also the author of more than 140 publications, more than 300 presentations, and is an ad hoc reviewer for several journals.
Supported By