Role of Orthodontist in Forensic Dentistry - Introduction
AEEDC Webinars
December 22, 2020 - 17:00 - 18:00
Topic Description :
Role of Orthodontist in Forensic Dentistry – Introduction
Learning Objectives:
Define forensic dentistry (Odontology)
Demonstrate the general role of the forensic odontologist.
Recognize the roles of Orthodontist in forensic dentistry.
Identify the requirements based on dental records for positive identification of individuals.
Compare adjunctive antemortem and postmortem data obtained from orthodontic practice of dental and non-dental craniofacial hard and soft tissues when attempting to affect identification.
Abstract:
Forensic dentistry is a new concept in many parts of the world; most dental fields have a close correlation with this branch of dentistry. Similarly, orthodontics/ orthodontists' practitioners have important role to offer law enforcement in the detection of crime or in civil proceeding. The aim of this presentation is to identify the role of orthodontists in forensic dentistry by utilizing all dental records obtained from their patients. Dental hard tissues with their anatomic/physiologic variations are the source of uniqueness of every individual, especially when undergoing orthodontic treatment, the changes and uniqueness is further noticed.
Introduction:
Forensic dentistry is a branch of dentistry concerned with the correct management, examination, evaluation and presentation of dental evidence that frequently requires an interdisciplinary approach towards dentistry in the aim of achieving proper diagnosis of cases and individuals. Orthodontics is the part of dentistry that deals with the prevention, guidance of the development of masticatory apparatus, correction of malocclusion, and establishment of functional and aesthetic harmony of the face.
The complexity of orthodontic treatment requires orthodontists to obtain several dental records pre-treatment for sake of treatment planning.
The role of the orthodontist is to evaluate all evidence help determine the age/identification of the person to whom the teeth belong when comparing ante-mortem and post-mortem records.
Most common records: 1- dental cast help in assessing the occlusion, intercanine width, rugae area, depth of the sulcus, 2- Photographs: extra-oral reveal facial form and shape of head, while intra-oral photographs show intraoral findings such as enamel decalcification, enamel cracks, tooth attrition, abrasion and malocclusion, 3- Dental images are crucial for identification by super imposing lateral cephalometic x-ray, evaluating presence of root resorption, restorations, RCT, etc. These comprehensive records can be considered as a documentation that can aid in different grades of identification.
Speaker :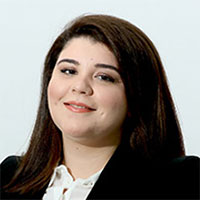 Dr. Riham Hadj Hamou
DDS, MSc
Lecturer, Specialist in Orthodontics
College of Dentistry
Gulf Medical University – UAE
Bio:
Dr. Riham HadjHamou holds a Master of Science in Orthodontics and Dento-Facial Orthopedics from Mohammed Bin Rashid University of Medicine and Health Sciences, UAE. Dr. HadjHamou began her teaching as a Lecturer with Gulf Medical University, UAE in 2019. Dr. HadjHamou has lectured, held hands on courses and participated in various international conferences and national events.
Accreditation

INDEX Conferences and Exhibitions Organisation Est. is an ADA CERP Recognized Provider. ADA CERP is a service of the American Dental Association to assist dental professionals in identifying quality providers of continuing dental education. ADA CERP does not approve or endorse individual courses or instructors, nor does it imply acceptance of credit hours by boards of dentistry. INDEX Conferences & Exhibitions Organisation Est. designates this activity for 1 continuing education credits.