Role of Buccal Fat Pad in Oral and Maxillofacial Reconstruction
AEEDC Webinars
December 17, 2020 - 17:00 - 18:00
Topic Description :
Role of Buccal Fat Pad in Oral and Maxillofacial Reconstruction
Learning Objectives:
Identify the Surgical Anatomy of the Buccal fat pad.
Understand the clinical uses of the buccal fat pad.
Identify the technique of the buccal fat pad.
Elaborate on different cases treated with buccal fat pad.
Identify the complications associated with the buccal fat pad.
Abstract:
 This study is designed to evaluate the pedicled buccal fat pad grafting for the applicability of the reconstruction of oral defects surgically created during oral surgery or as a complication of various dento-alveolar surgery. The flap was used to cover surgical defects of the palate, maxilla, upper gingiva, buccal mucosa, lower gingiva, retromolar region, oral floor, and temporomandibular joint. Complete epithalialization was observed within 4-6 weeks postoperatively according to the extent of the defect. There were no complications (wound dehiscence, necrosis or infections) or functional disorders during follow-p. Buccal fat pad grafting appears to be feasible for the reconstruction surgically induces defects, and can be extended to the palate, mandible, mouth angle, and temporomandibular joint region, it is simple, nearby and feasible graft.
Introduction: 
The buccal fat pad is located in the buccal space which is the compartment in which the buccal fat pad is confined. The boundaries of this compartment include the buccinator muscle medially, the deep cervical fascia and muscles of facial expression anterolaterally, and the masticator space and the parotid gland posteriorly.
BFP has many possible functions: filling and allowing slippage of the fascial spaces between mimetic muscles; enhancement of intermuscular motion, separating muscles of mastication form one another; to counteract negative pressure during suckling in the newborn; protection and cushion of neurovascular bundles from injuries.
Speaker :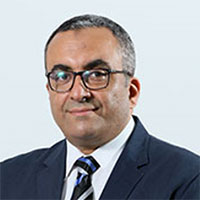 Dr. Ahmed Moustafa Mohmoud Hussien Salloum
BDS, MSc, MOSRCSEd (UK), MBBS, MD (CMF)
Assistant Professor of Oral & maxillofacial Surgery
College of Dentistry
Gulf Medical University – UAE
Bio:
Dr. Salloum is an Assistant Professor of Oral and Maxillofacial Surgery. He graduated from the Faculty of Dentistry, Alexandria University, he is interested in the field of clinical education and he conducted many workshops and scientific days for the undergraduate students as well as the interns and trainees in oral and maxillofacial surgery field, Dr. Salloum has a passion of the cranio-maxillofacial surgery practice then he obtained his medical degree from the Faculty of Medicine, Alexandria University and then obtained a Doctorate degree (The Role of Semi-buried Distractor in the Management of Craniosynostosis) in the Craniomaxillofacial and Plastic Surgery from Alexandria University. With special interest in management of craniofacial deformities, facial trauma, orthognathic surgery.
Membership of Oral Surgery, The Royal College of Surgeon of Edinburgh, UK
Master of Science in Dentistry in Oral Surgery and Anaesthesia, Alexandria University
Bachelor of Dental Medicine and Surgery, Faculty of Dentistry, Alexandria University
Assistant Professor of Oral and Maxillofacial Surgery, College of Dentistry, Gulf Medical University
Consultant of Oral-Maxillofacial Surgery, Mounir Dental Clinic
Consultant of Oral-Maxillofacial Surgery, Sahla New Hospital, Alexandria
Accreditation

INDEX Conferences and Exhibitions Organisation Est. is an ADA CERP Recognized Provider. ADA CERP is a service of the American Dental Association to assist dental professionals in identifying quality providers of continuing dental education. ADA CERP does not approve or endorse individual courses or instructors, nor does it imply acceptance of credit hours by boards of dentistry. INDEX Conferences & Exhibitions Organisation Est. designates this activity for 1 continuing education credits.