Radiation Therapy for Rectal Cancer: Updates 2021
IFM Webinars
July 04, 2021 - 16:00 - 17:00
Topic Description :
Radiation Therapy for Rectal Cancer: Updates 2021
Learning Objectives:
Colorectal cancer is the third most common cancer worldwide. Rectal adenocarcinomas represent about one-third of all colorectal cancers. The therapeutic management of this cancer is multidisciplinary. Radiation therapy is the major treatment of rectal cancer, especially the locally advanced stages. Last year and this year have seen several advances in the management of this cancer, particularly the neoadjuvant treatment.
This presentation has for educational objectives:
Identify indications for neoadjuvant Radiation Therapy
Define the Neoadjuvant regimens and therapeutic sequences
Describe the organ preservation approaches
Speakers :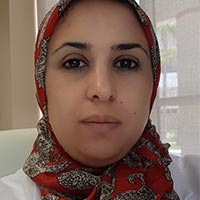 Dr. Nabila Sellal
Assistant Professor in Radiation therapy
Department of Radiation therapy – Ahmad Bin Zayed Al Nahyan Cancer Treatment Hospital
Medical University of Tangier – University Hospital of Tangier
Morocco