Psychiatric disorders due to Covid19 pandemic
IFM Webinars
November 16, 2020 - 20:00 - 21:00
Topic Description :
Psychiatric disorders due to Covid19 pandemic
Learning Objectives:
To understand the relationship between peripheral inflammation / CNS microglial activation, and
depressive symptomatology, with a special focus on major depression in COVID-19 survivors.
Speaker :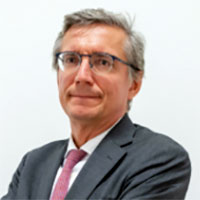 Prof. Francesco Benedetti
Moderator: Dr. Verdiana Morando
 Francesco Benedetti combined his research activities with everyday clinical work in the hospital, with university teaching appointments, and with coordination and leadership of research units in the broad field of psychiatry and clinical neurosciences. He holds the Italian National Scientific Qualification for Full Professor of Psychiatry, and he is the director of the Psychiatry and Clinical Psychobiology Unit at the Scientific Institute Ospedale San Raffaele. He is a diplomate in Psychiatry, summa cum laude, at the University Vita/Salute San Raffaele and a diplomate in Clinical Psychology, summa cum laude, at the University of Milan.
His main research interests are within the field of translational and reverse-translational research in psychiatry, and include brain imaging and neural correlates of psychiatric diseases and therapeutics, psychiatric genetics, chronobiology and chronotherapeutics of mood disorders, developing new treatment techniques based on the administration of environmental stimuli to synchronize the biological clock. Other areas of interest include clinical neuropsychology and animal models of psychiatric diseases.