Pharmacy Education: The past, the present and the future
DUPHAT Webinars
May 26, 2021 - 16:00 - 17:00
Topic Description :
Pharmacy Education: The past, the present and the future
Learning Objectives:
Give an overview of the progression of the pharmacy profession over the past 100 years.
Demonstrate the impact of Pharmacy Education on the Pharmacy Profession and vice versa.
Brian Storm on ways to drive the pharmacy profession forward to improve patient care through Pharmacy Education
Speaker :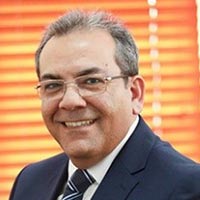 Professor Sherief Khalifa
Vice Chancellor for Quality & Global Engagement
Dean, College of Pharmacy – Gulf Medical University
Bio:
Dr. Sherief Khalifa received his BSc (Pharm) at King Saud University in 1986, and his PhD at the University of Mississippi (USA) in 1994. After graduation, he joined Suez Canal University and then Misr International University (MIU) in Egypt. Before leaving MIU to join Qatar University, Dr. Khalifa was Professor and Head, Department of Pharmacy Practice and Clinical Pharmacy. Professor Khalifa held adjunct appointments with the University of Mississippi, USA and Ain Shams University, Egypt. He also received a Fulbright Research & Teaching Scholarship at Georgia State University in 2001. Throughout his academic career, Dr. Khalifa was instrumental in establishing linkages between Universities in the Middle East and USA-based academic institutions. Dr. Khalifa joined the College of Pharmacy at Gulf Medical University in August of 2017 as Professor and Dean. During his first year in office he led the accreditation efforts for the PharmD and the Master in Clinical Pharmacy programs. Both programs received accreditation by the Commission for Academic Accreditation, Ministry of Education, UAE. During his second year, he led the certification of GMU PharmD program by the American Accreditation Council for Pharmacy Education (ACPE). In addition to his Deanship, he currently serves as Vice Chancellor for Quality and Global engagement at Gulf Medical University. He also serves as a member of the International Commission of ACPE.