Periodontal Plastic Surgery
AEEDC Webinars
January 29, 2021 - 20:00 - 21:00
Topic Description :
Periodontal Plastic Surgery
Abstract:
Mucogingival deformities that affect a large number of patients are important as a periodontal condition. Among the mucogingival deformities, lack of keratinized tissue and gingival recession are the most common defects and have studied vigorously. Although minimum amount of keratinized tissue necessary for gingival health has been questioned recently, attached gingiva is important to maintain gingival health in patients with lower plaque control. Classification of gingival defects is important to understand survival and treatment approached. Various surgical approached to address gingival defects around teeth or dental implants have been reviewed in this presentation
 Introduction:
Mucogingival defects around teeth or dental implants are conditions that compromise aesthetics and plaque control. These defects are frequently seen in adults in both high al low standards of hygiene control. Root exposure, hyper sensitivity and difficulty of plaque control around implants are some clinical representation of these conditions. Presence of recession is esthetically unacceptable for many individuals. Exposure of root surface to the oral cavity could cause carious or non-carious cervical lesions. Since life expectancy is getting longer, gingival recession is observed more often. Hence, it is imperative to investigate anatomic and morphologic characteristics of mucogingival lesions in regard to classification and treatment approaches. Clinical oriented classification and various surgical approach has been reviewed in this presentation to approach gingival recessions or soft tissue augmentations around dental implants.
 Learning Objectives:
Defining mucogingival defects and periodontal plastic surgery procedures
Propose a clinically oriented classification of mucogingival lesions
Define etiology of mucogingival defects and rational for periodontal plastic surgery
Review wound healing stages after periodontal surgeries
Discuss various surgical approaches to address mucogingival lesions
Speaker :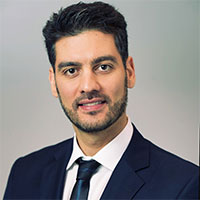 Dr. Naser Rezaei
DDS, MS, Periodontist, Implantologist, Private Practice, USA
About the Speaker
Dr. Naser Rezaei is a creative and inspiring person. After several years of practice as a general practitioner, Dr. Rezaei received his Periodontology certificate combined with a Master of Science Degree from SUNY Stony Brook University in New York.
Dr. Rezaei's passion in basic and clinical research in advanced implantology and periodontology has resulted in numerous publications and presentations through his career. Dr. Rezaei has presented his dedication to education in Periodontology and Dental Implants through teaching for pre-doctoral students, mentoring students in research settings and lecturing his peers about various treatment modalities. He is currently alumni of "Academy for Academic Leadership" (AAL) Group in his approach to become a leader in the field. He is board eligible in Periodontology and dental implant surgery.
Dr. Rezaei lives in El Paso, practicing full time at the state-of-the-art El Paso Periodontics and Implant Specialists office committed to provide promising high-quality care in a stress-free environment.
Accreditation

INDEX Conferences and Exhibitions Organisation Est. is an ADA CERP Recognized Provider. ADA CERP is a service of the American Dental Association to assist dental professionals in identifying quality providers of continuing dental education. ADA CERP does not approve or endorse individual courses or instructors, nor does it imply acceptance of credit hours by boards of dentistry. INDEX Conferences & Exhibitions Organisation Est. designates this activity for 1 continuing education credits.
Organised By