Patient and Team-safety in the Dental Clinic in COVID-19 Times
AEEDC Webinars
October 29, 2020 - 16:00 - 17:00
Topic Description :
Patient and Team-safety in the Dental Clinic in COVID-19 Times
Abstract:
Highly infective viruses demand for a wider attention of healthcare teams to avoid cross contamination. Every team-member must be informed and trained in the same manner. Training-requirements for patient-and team-safety are comparable to those for any other emergency situation. Basic training, training "as we go" and refresher sessions are essential to carry out any task in maximum safety including the understanding and application of triage protocols, hygiene practices of different kinds, proper disinfection and reconditioning, and measures to be taken when an infected patient or staff member is identified, and when there is PPE and disinfectant shortage.
Introduction:
Since the WHO Country Office in China informed about a cluster cases of "pneumonia of unknown cause", in Wuhan, and the WHO recognition of the spread of COVID-19 as a pandemic on 11 March 2020, the SARS CoV-2 continues to spread globally. On our travel through the COVID-19 crisis and in attendance of a safe and efficient vaccine, we have experienced that a few simple but principal measures help to survive this pandemic with zero harm for patients and oral health team-members alike. No single certified cases of SARS CoV-2 infection in dental-clinics is known. This delivers two facts:
1. The dental profession is ready to carry out appropriate safety protocols.
2. The dental profession manages shortage of PPEs and disinfectants properly.
Latest research shows that actually there is no objective evidence that demonstrates a higher risk in practicing dentistry during the COVID-19 pandemic, that universal facial masking might help decrease the severity of disease and ensure that many new infections remain asymptomatic, and that by modifying the physical response of water to the rotary or ultrasonic forces used in dentistry, aerosol-generating procedures can be handled safely. Finally, the impact on global environment and finances must not be neglected.
Learning Objectives:
– Set the rules for effective team-learning and team-working
– Value consolidated knowledge and select new science
– Discuss the change and difference of information from organizations and institutions as we go through the health crisis
– Read scientific papers critically and evaluate the applicability of the results
– Adapt to unexpected circumstances in times of confusion about and shortage of PPE
Speaker :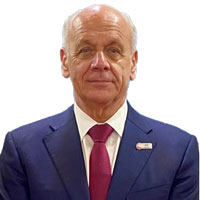 Dr. Gerhard Konrad Seeberger
DMD, President, FDI World Dental Federation
Private Practice – Italy
Bio:
Private Practitioner, Cagliari, Italy,
President FDI World Dental Federation,
Past-President FDI European Regional Organization,
Past-President Italian Dental Association, AIO,
Committee-member Italian Ministry of Health: Guidelines in Implant Dentistry and Periodontology,
Speaker (>50 international venues),
Dr. h.c. Yerevan State University, Armenia