Optimizing management of diabetes in pregnancy
IFM Webinars
August 24,2021 - 16:00 - 17:00
Topic Description :
Optimizing management of diabetes in pregnancy
Learning Objectives:
Obstetricians are increasingly faced with pregnancy complicated by the presence of diabetes. This presentation aims to give a comprehensive overview in diagnosing and managing diabetes in pregnancy. It also elucidates the preconception counselling of patients with preexisting diabetes mellitus.
In high-risk populations, diabetes develops in up to 50% of women with Gestational diabetes, hence appropriate counselling for future glucose levels monitoring is integral to the management protocol.
Speaker :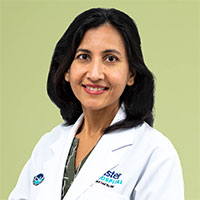 Dr. Suchita Meherishi
Specialist Obstetrics and Gynaecology , Aster Hospital – Al Qusais , Dubai , UAE
Bio:
Dr.Shuchita Meherishi, Specialist in Obstetrics And Gynaecology, has an extensive experience in the management of high risk and low risk pregnancies with a passion for Laproscopic surgeries. She is skilled in the medical and surgical management of various gynecological disorders.
19+ years of experience.
Diploma in Reproductive medicine and IVF (University of Schelsweig Holstein, Germany)
Fellowship in Cosmetic Gynecology (International Association of aesthetic gynaecology
Fellowship of Indian College of Obstetrics and Gynecology
Fellowship of Indian College of Maternal and Child Health
Colposcopy course from British Society of Colposcopy and Cervical Pathology
Member of Federation of Obstetrics & Gynecology societies of India
Member of Indian Association of Gynecological Endoscopists
Principal investigator in multicentric clinical trials for leading vaginal contraceptive ring ; Lycopene ; INCLEN priority setting.
Clinical Expertise & Services Offered
Antenatal check up of normal and high risk pregnancies,  pregnancies complicated by preexisting medical disease,vaginal and cesarean delivery, vaginal delivery after cesarean section, Recurrent pregnancy loss cases & cervical incompetence & cervical shortening management, Early pregnancy complications & miscarriage management Laproscopic surgeries including total and subtotal hysterectomy, fibroid surgeries, ovarian cysyectomy, endometriosis management, ectopic pregnancy management Open Abdominal Hysterectomy Open Myomectomy Vaginal hysterectomy Hysteroscopy diagnostic and operative Evaluation of abnormal uterine bleeding, biopsy, mirena insertion Pap smear, Colposcopy, Cancer screening LLETZ and cone biopsy Polycystic ovaries management Menopause medicine Cosmetic Gynecology including labioplasty, vaginoplasty