Management of Type 2 Diabetes in Primary Health Care Centers
IFM Webinars
September 26, 2020 - 20:00 - 21:00
Topic Description :
Management of Type 2 Diabetes in Primary Health Care Centers
Learning Objectives:
Criteria for Diagnosis of Type 2 DM and Interpretation of the Results.
Diagnosis and management of Prediabetes.
Comprehensive medical evaluation of type 2 DM patient.
Management of Hypoglycemia in type 2 DM.
Management of type 2 DM.
Cardiovascular Disease and Risk Management.
Microvascular Complications and Foot Care.
Speaker :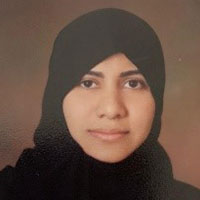 Dr.Batool Al Sayed Sharaf Salman Ali
Consultant Family Physician
Director of Hor Al Anz Health Center –Dubai – Ministry of Health
Focal point of Non-Communicable Diseases-Dubai
Bio:
Arab Board in Family Medicine – The Arab Council for Medical Specialities
M.B.B.S (i.e. M.D) United Arab Emirates University Faculty of Medicine and Health Sciences – Al Ain – UAE