Making Preeclampsia History - every min a mother or her unborn child dies due to preeclampsia
IFM Webinars
December 7, 2020 - 19:00 - 20:00
Topic Description :
Making Preeclampsia History – every min a mother or her unborn child dies due to preeclampsia
Learning Objectives:
Gain new knowledge of pathophysiology of preeclampsia & new approaches to diagnosis (with potential therapies in the pipeline
Speaker :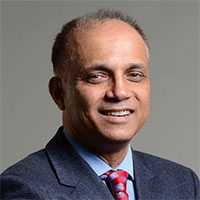 Professor Asif Ahmed PhD FRSB
Executive Chairman and CEO,
MirZyme Therapeutics Limited,
UK
Professor Asif Ahmed is a British vascular scientist whose laboratory was the first to signal the importance of protective factors to prevent preeclampsia in pregnancy. Preeclampsia, a life-threatening condition in pregnancy affecting mothers and their unborn babies, affects 1 in 12 of 130 million pregnancies each year with an annual cost burden of 100 billion dollars. Professor Ahmed's goal is to make preeclampsia history.
Professor Ahmed is the Executive Chairman and CEO of MirZyme Therapeutics Limited, which is developing predictive AI-assisted diagnostic tests and targeted therapeutics for preeclampsia. He also the founder of the Aston Medical School, the most socially inclusive and internationally connected medical school in the U.K.