Hybrid Medicine during COVID: The Israel experience
IECM Webinars
February 15, 2021 - 11:30 - 12:30
Topic Description:
Hybrid Medicine during COVID: The Israel experience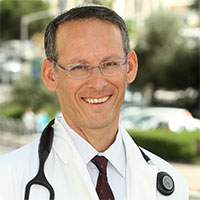 Prof. Gabriel Izbicki
Director of Shaare Zedek Medical Center Pulmonary Institute
Jerusalem, Israel
About the speaker
Prof. Gabriel Izbicki has been the Director of Shaare Zedek Medical Center's Pulmonary Institute since 2009. Under his direction, the Pulmonary Institute has become the largest and most important pulmonary center in Jerusalem and the second most important in Israel. It is widely recognized in Israel and abroad as a center of excellence. He also wrote a book with commentaries on the Bible (Old Testament).
Prof. Izbicki was born in Switzerland and moved with his family to Israel in 1997.  After a three-year research fellowship, he began working at Shaare Zedek in 2001. Dr. Izbicki is a Professor of Medicine at the Hebrew University Medical School.
In addition to his Shaare Zedek responsibilities, Izbicki is the Chairman of the National Pulmonary Board Exams Committee. He is also a member of many professional committees, including those offered at Shaare Zedek, the Israel Medical Association, and Hebrew University. He is a co-organizer of National and International Pulmonary conferences in Israel and abroad and is regularly invited by the Knesset (Israeli parliament) to give lectures on topics relating to his field of expertise, specifically smoking related diseases. Under his direction the RUPI – Research Unit of the Pulmonary Institute – was created a few years ago. He has published more than 70 papers, some of which have been published in top international medical journals including the New England Journal of Medicine, the Lancet and the British Medical Journal. Izbicki conducted research at the Montefiore Medical Center in New York, where he worked with firefighters injured at the World Trade Center on September 11th and later on did a research fellowship in Melbourne, Australia.
Supported By