Gene therapy in hematological disorders: a powerful tool to treat young patients
IFM Webinars
November 26, 2020 - 20:00 - 21:00
Topic Description :
Gene therapy in hematological disorders: a powerful tool to treat young patients
Learning Objectives :
To learn about the molecular basis of gene transfer
To learn about the rationale of gene therapy in genetic diseases
To learn about the different gene therapy approaches
To learn about the roadmap of clinical translation of gene therapy for beta thalassemia and the
results of TIGET Bthal clinical trial
Speaker :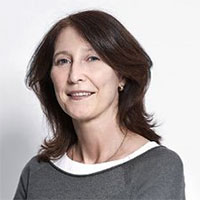 Prof. Giuliana Ferrari 
Moderator: Dr. Verdiana Morando
Giuliana Ferrari, is Head of Unit at Scientific Institute San Raffaele in SR-TIGET and Associate Professor of Molecular Biology and Gene Expression at UniSR Medical School.  She holds a Ph. D. in Biological Science at the University of Milan and a post-doctoral fellow at the Wistar Institute of Anatomy and Biology, Philadelphia, USA. She has been a staff scientist in several Italian laboratories and a Research Associate at the Istituto Nazionale Tumori, Milan.
She started her career working with F. Mavilio and C. Bordignon by developing retroviral vectors for gene transfer in human cells and preclinical models for gene therapy. Meanwhile, she also contributed to develop vectors and preclinical data in collaboration with M. De Luca, a leading epidermal stem cell biologist, for the first gene therapy clinical trial for genetic skin adhesion disorder epidermiolysis bullosa.
Her scientific interests include the study of vector-genome interaction, hematopoietic stem cell biology, hematopoietic stem cell-niche interactions and molecular control of erythropoiesis.