Epidemiological Perspective on COVID-19 Implications on Dentistry
AEEDC Webinars
November 08, 2020 - 16:00 - 17:00
Topic Description :
Epidemiological Perspective on COVID-19 Implications on Dentistry
Abstract:
Evidence based dentistry is an emerging facet of dentistry particularly in times of COVID-19. This lecture is specifically designed for dental professionals to better understand the implications of COVID-19 on dentistry from an Epidemiological point of view. We will discuss how dental professionals, staff, students, patients across the globe have been affected emotionally, financially and psychologically and will enable us to better understand the pandemic situation. This lecture will demonstrate stats and numbers using epidemiological tools and thus better prepare us as dental professionals to face the COVID-19 implications on dentistry.
Introduction:
COVID – 19 pandemic has significantly impacted all health professionals including dentists, dental students, staff, dental assistants, dental specialists, hygienist and technicians. We were not prepared for managing the pandemic situation previously that led to closing our dental offices for few months before reopening dental practices to mainly emergency based dental procedures. This had adverse emotional, psychological and financial outcomes on dental professionals. To better prepare ourselves in such challenging times, it is prudent to first understand the impact of COVID-19 on dentistry from an Epidemiological point of view. This lecture will help us to look at stats, numbers and trends and evaluate the impact on dentistry. Thus, understanding this will better prepare us to face such situation in the future and think ahead of time to evolve dentistry accordingly.
Learning Objectives:
Understanding impact of COVID-19 on dental professional categorized under emotional, psychological and financial aspect
Understanding impact of COVID-19 on dental students and residents categorized under emotional, psychological and financial aspect
Learn more about most commonly performed dental procedures during the pandemic
Understand impact of COVID-19 on dental patients and dental conditions affecting them mainly during this period
Evaluating stats, charts and numbers from an Epidemiological point of view to better prepare for the future
Speaker :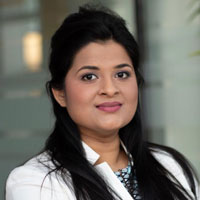 Dr. Amrita Swamy
BDS, MPH in Epidemiology, DDS Class of 2022,
NYU College of Dentistry, USA
Bio:
• Dr. Amrita Swamy graduated from VSPM Dental College, India with Bachelor of Dental Surgery in 2013. She holds 4 years of clinical experience of practicing dentistry in India with major focus on serving the rural areas and promoting oral health that followed her interest towards Public Health.
• She received her Master degree in Public Health with Epidemiology major from The University of Oklahoma Health Sciences Center, USA in 2019.
• She had been working as an Epidemiologist for a Tribal Health Board in Oklahoma, USA on an opioid overdose project before being accepted at NYU College of Dentistry for the Advanced Dental Program.
• While working on her practicum on Community Water Fluoridation, she has been part of journal publication and main researcher for the Oral Health Report Card for the state of Oklahoma, USA. She also worked as a primary contributor for developing a toolkit on Health Care Transition for children and youth with special needs.
• With her multidimensional facet, she has served different leadership position and is currently serving as an student ambassador for the Academy of Microscope Enhanced Dentistry (AMED).
• She holds active membership with several organization that include American Dental Association (ADA), ASDA, CMDA among many other.
Accreditation

INDEX Conferences and Exhibitions Organisation Est. is an ADA CERP Recognized Provider. ADA CERP is a service of the American Dental Association to assist dental professionals in identifying quality providers of continuing dental education. ADA CERP does not approve or endorse individual courses or instructors, nor does it imply acceptance of credit hours by boards of dentistry. INDEX Conferences & Exhibitions Organisation Est. designates this activity for 1 continuing education credits.
Organised By