Early Childhood Caries - An Epidemic Oral Health Problem in the United Arab Emirates
AEEDC Webinars
March 20, 2021 - 18:00 - 19:00
Topic Description :
Early Childhood Caries – An Epidemic Oral Health Problem in the United Arab Emirates
Abstract:
Early Childhood Caries (ECC) is a specific form of tooth decay affecting the primary dentition. It can result in a considerable suffering and disfigurement and frequently compromises the future dentition. The Prevalence of ECC in the United Arab Emirates (UAE) is very high. The treatment of ECC is very costly and in most cases, it requires full dental rehabilitation under general anaesthesia by a paediatric dentist. However, the disease is preventable (i.e. primary prevention) and in its early stages (secondary prevention). The aims and objectives of this presentation are: to investigate the contributing factors for the high ECC prevalence in the UAE (presenting the results of Ras Al-Khaimah ECC study), its clinical picture and to discuss and suggest an evidence-based ECC prevention and management strategies.
Learning Objectives:
Understand the ECC: Definition, Terminology, Clinical Picture, and Prevalence
Identify the Multifactorial Aetiology of ECC
Appreciate the Severity of ECC in the UAE preschool children
Describe the evidence-based Prevention/Management Strategies of ECC and suggest a solution to solve ECC in the UAE
Speaker :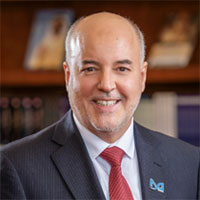 Dr. Mawlood Kowash
BDS, MSc, PhD, FRCD (Canada), FDSRCS (Ed)
Associate Professor and Consultant Pediatric Dentist, Examiner for the Royal College of Edinburgh MFDS part 2
Mohammed Bin Rashid University of Medicine and Health Sciences – Dubai, UAE
Bio:
Dr Kowash received his Dental Degree (BDS) from Libya in 1985, his Master and PhD in Pediatric Dentistry from the University of Leeds, UK in 1993 and 1999, respectively. He became a fellow of the Royal College of Dentists of Canada in 1998 and a fellow of the Royal College of Physicians and surgeons of Glasgow and Edinburgh in 2015 and 2019, respectively. Currently Dr Kowash is working at the University of Medicine and Health Sciences as an Associate Professor and Consultant in Pedaitric Dentistry in Dubai, UAE. Dr. Kowash is an examiner for the Royal College of Edinburgh MFDS part 2. He has over 50 publications in peer-reviewed journals and he is a reviewer in several international dental journals. He is a regular guest speaker and presented several abstracts/posters in national and international dental conferences.
Accreditation

INDEX Conferences and Exhibitions Organisation Est. is an ADA CERP Recognized Provider. ADA CERP is a service of the American Dental Association to assist dental professionals in identifying quality providers of continuing dental education. ADA CERP does not approve or endorse individual courses or instructors, nor does it imply acceptance of credit hours by boards of dentistry. INDEX Conferences & Exhibitions Organisation Est. designates this activity for 1 continuing education credits.
Organised By