Topic Description :
Drug Resistance Index
Learning Objectives:
Build awareness on Anti-Microbial Resistance (AMR) which is emerging as a global, public health concern.
Prevent misuse and overuse of antimicrobials.
Favourably influence the prescription practices and promote rational use of antimicrobials.
Facilitate optimum decision making by Healthcare Managers; Policymakers (non-technical experts).
Speaker :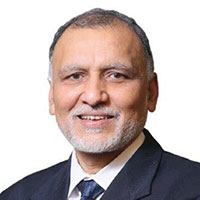 Dr. Bishnu Panigrahi
Group Head – Medical Strategy and Operations – "Fortis Healthcare"
Bio:
Dr. Bishnu Panigrahi, has served the healthcare sector for over 30 years with subject matter expertise in Anesthesiology, medical strategy & operations and patient safety and is a part of several national and internationals associations including American Society of Anesthesiologists (ASA), Indian Association of Cardiothoracic Anesthesiologists (IACTA), Society of Critical Care Anesthesiologists (SOCC) and European Association of Cardiothoracic Anesthesiologists (EACTA).
Through out his career he has held multiple key positions as Chairman of Anesthesiology, HOD of Infection Control Committee, Head of Medical Strategy and spearheaded several projects that has been rolled out on a nationwide level.
Dr. Panigrahi has also been an educator for 8 years and has imparted lectures in multiple key institutions in India and have published number research papers in the filed of Anesthesiology.