Dermatology Practice during the COVID-19 Pandemic?
Dubai Derma Webinars
June 26, 2020 - 18:00 - 19:00
Topic Description :
Dermatology Practice during the COVID-19 Pandemic?
Speakers :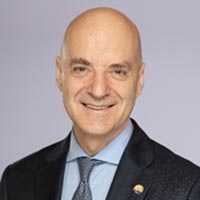 Dr. George J. Hruza – USA
About the speaker
President, Missouri State Medical Association.
Adjunct Professor of Dermatology, St. Louis University Laser & Dermatologic Surgery Center.
He received his medical degree from New York University, MBA from Washington University and completed his dermatology residency at New York University Medical Center followed by a laser surgery fellowship at Harvard Medical School and a Mohs and dermatologic surgery fellowship at the University of Wisconsin-Madison.
Diplomate of the American Board of Dermatology, American Board of Mohs Surgery and Cutaneous Oncology, and American Board of Laser Surgery.
Introduction
The lockdowns ordered due to COVID-19 across the world are being gradually rolled back. In dermatology, elective and "non-essential" services can again be offered to our patients. I will focus on the steps we need to take in order to reopen or re-ramp up our practices in the "new normal" necessitated by the many government health department mandates and to keep our patients and staff safe at our offices.
Objectives
1. Take the appropriate steps to keep patients and staff safe in the setting of COVID-19
2. Reassure patients and staff to come back to your office in the setting of COVID-19
3. Minimize liability risk at your office in the setting of COVID-19