Current Trends in Communication between Ceramists and Dentists for Accurate and Natural Looking Restorations
ِِAEEDC Webinars
October 18, 2021 - 16:00 - 17:00
Topic Description :
Current Trends in Communication between Ceramists and Dentists for Accurate and Natural Looking Restorations

Abstract:
Excellent dentist/ceramist communication is essential in aesthetic and prosthetic dentistry. Digital technology using digital photography, digital scanners or digital 3D printing are indispensable tools nowadays for the dental team. Technology itself without having a solid systematic approach in communication and implementation are not enough.  Missing information related to shade, design, return time or material selection are pretty common, which can result in inaccuracy or failure of restorations aesthetically and functionally.
A ten points protocol is suggested in my lecture to help dentists, technicians and dental students to achieve efficient communication, reach results, avoid failure and decrease risk.
Learning Objectives:
Enumerating the most common mistakes in dentists-ceramists communication.
Describe the 10 points that shouldn't be missed while we are doing a communication for esthetic indirect restorations.
Providing the audience with a free prescription that could be used in a digital form in the future communication make such application a routine.
Applying a photography protocol in such communication involve face, smile, shade, form and other closeup views.
Take home a systematic protocol that combine face, macro and micro dentistry that will improve your results and decrease errors.
Speaker :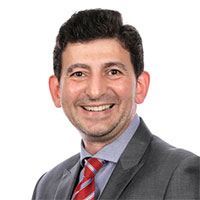 Dr. Ahmed Abdel Halim Mahmoud El Sayed
BDS, MSc, PhD, FDSRCS
Consultant in Restorative and Aesthetic Dentistry
Egyptian Dental Syndicate, Egypt
Bio:
AHMED EL-SAYED is an international speaker and Egyptian educator. He is a consultant dentist with more than 27 years of experience in Restorative and Cosmetic Dentistry. He obtained six postgraduate degrees in Conservative and Cosmetic Dentistry including Master degree, PhD and Fellowship from the Royal college of dental surgeons, UK, in addition to three higher diplomas in Implantology, Laser in dentistry and Healthcare and Hospital management.
Dr. Ahmed is a member in five international scientific societies in addition to the American Dental Association and the American Academy of Cosmetic Dentistry. He Published scientific papers and made presentations in Egyptian Universities, Dental schools and the American University in Egypt.
He is the founder of Ultra Dental club, an advanced center for continuous education and the owner of a State of Art Dental Center in Egypt named Ultra Dental Care and Esthetics.
Made Possible By:

Accreditation

INDEX Conferences and Exhibitions Organisation Est. is an ADA CERP Recognized Provider. ADA CERP is a service of the American Dental Association to assist dental professionals in identifying quality providers of continuing dental education. ADA CERP does not approve or endorse individual courses or instructors, nor does it imply acceptance of credit hours by boards of dentistry. INDEX Conferences & Exhibitions Organisation Est. designates this activity for 1 continuing education credits.
Organised By