Bone Marrow Transplants: Where are They Going?
IECM Dubai Webinars
January 25, 2021 - 16:00 - 17:00
Topic Description :
Bone Marrow Transplants: Where are They Going?
Speaker :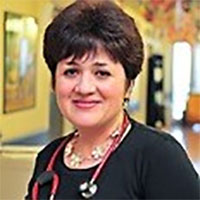 Prof. Polina Stepensky
Director, Department of Bone Marrow Transplantation and Cancer Immunotherapy Department at Hadassah
About the Speakers
Identification of novel forms of inherited immune deficiency and elucidation of the underlying molecular and cellular mechanism of these disorders (seven new inherited disorders were found and in many diseases we described a novel phenotype). Based on our basic genetic and immunological findings, we developed personalized approach to transplantation and successfully treated these patients (in many cases we were the first in the world).  This initiative has been supported by the German Ministry for Science and I was awarded by the grant from DFG and European consortium –ERARE program.
The approach to stem-cell transplantation in non-malignant disorders, with emphasis on transplant-related issues including conditioning regimens and amelioration of transplant-related toxicity (Fanconi anemia, thalassemia, WAS, CGD, EBV related LPD, HLH, PCID etc.). Noted, we have established at Hadassah a national and international referral center for children affected with infantile malignant osteopetrosis with largest in the world cohort of patients (including genetic, clinical and biologic variables). All of them were transplanted with our unique protocol with an excellent results. More details are in extended scientific biography.