Alternative Treatment Approaches in Paediatric Dentistry
AEEDC Webinars
July 14, 2022 - 17:00 - 18:00 (UAE time)
Topic Description :
Alternative Treatment Approaches in Paediatric Dentistry
Abstract:
Handling challenging cases of Severe Early Childhood Caries, primary teeth with pulpal inflammation, Molar Incisor Hypo-mineralization (MIH), requires proper treatment planning and patient behaviour management which is considered the cornerstone of Paediatric Dentistry.
New promising techniques have been introduced to overcome the challenges in managing such cases including the Hall Crown, Silver Diamine Fluoride (SDF) and SMART (Silver Modified Atraumatic Restorative Technique). The aim of performing these new techniques is to increase child's compliance and operator comfort along with sealing the carious lesions until the child is ready for further treatments in the future if required.
Learning Objectives:
Analyse and correlate the clinical and radiographical signs of the presenting cases.
Select and apply the proper treatment plan that would consider the patient age, behaviour, medical condition etc.
Apply biological approach in caries management in the primary dentition.
Utilize the new treatment techniques in the daily dental practice.
Implement the appropriate behaviour management techniques.
Speaker :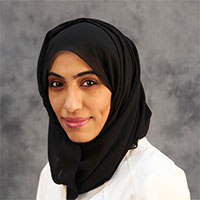 Shaikha Dr. Maryam Abdulla Hamad Al Sharqi
DDS, MSD, CAGS
Paediatric Dentist
Private Practice
Fujairah (UAE)
Bio:
She is an Emirati passionate Paediatric Dentist with more than 10 years' experience in dealing with different paediatric patients including people of determination using sedation and general anaesthesia.
During these years she has been working in the government and private sector as a clinician and lecturer in few universities. She is proud to establish her own dental center the first of its kind in Fujairah, UAE that provide various dental treatments for the paediatric population.
She has been spreading her knowledge and benefiting others with it is one of her interests in life.
Accredited by

INDEX Conferences & Exhibitions Organisation Est is an ADA CERP Recognized Provider. ADA CERP is a service of the American Dental Association to assist dental professionals in identifying quality providers of continuing dental education. ADA CERP does not approve or endorse individual courses or instructors, nor does it imply acceptance of credit hours by boards of dentistry. INDEX Conferences & Exhibitions Organisation Est. designates this activity for 1 continuing education credits.
Organised By