Age-related macular degeneration (AMD): diagnosis and management
ِِIFM Webinars
October 24, 2021 - 16:00 - 17:00
Topic Description :
Age-related macular degeneration (AMD): diagnosis and management
Learning Objectives:
Possible symptoms of Age related Macular Degeneration
Two main types: dry and wet.
Diagnosis and Management
Requirement for referral and treatment by a retina specialist
Speaker :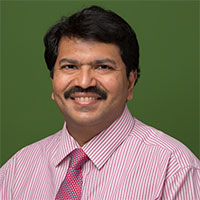 Dr. Prasan Rao
MS, FRCSED (UK), DO, DOMS, FCPS
Medical Director, Ophthalmologist & Vitreo Retinal Surgeon
Medcare Eye Centre, Dubai, UAE
Bio:
Dr. Prasan Rao comes with 19 years of enormous experience. He completed his graduation in 1994 from KEM Hospital & Seth G S Medical College, Mumbai. In 1999, he completed his Masters in Surgery, Opthalmology from Sir J J Group of Hospitals and Grant Medical College, University of Mumbai. He also obtained fellowships in Vitreoretinal diseases, and surgery and FRCSEd (Fellow of Royal College of Physicians & Surgeons, UK. He holds memberships in various academic societies and associations.
His journey started as a Visiting Vitreoretinal Surgeon in Damani Eye Hospital, Akola and presently acing the role of Medical Director, Specialist Ophthalmologist & Vitreoretinal Surgeon at Medcare Eye Centre.
Performing over 5000 posterior segment procedure in UAE. Many firsts are added to his honors. He was the First to introduce scleral buckling and lens-sparing vitrectomy for management of retinal detachment in retinopathy of prematurity. One of the first to perform 25 & 27gauge vitrectomy in UAE. First to perform combination of intravitreal injection + half fluence Photodynamic therapy in UAE. One of the First to treat choroidal haemangioma and central serous chorioretinopathy with Photodynamic therapy in UAE
Dr. Rao co-investigated several clinical trials and has run Hospital Health Project (Damani Eye Hospital Health Project) in 2002-2003. Over the years, Dr. Rao has contributed to many publications, papers and poster presentations. He also has chaired as Invited Faculty to several Instruction Courses and Lectures. He had been a part of Clinical Audit and Research conducted at Dubai Hospital.
Not limited to academics he also pose organizational skills, he was the Organizer and Member of Scientific Committee of the 11th UAE International Ophthalmic Conference & Exhibition (EIOCE 2003) and the International VIIIth Congress of the Pan Arab African Council of Ophthalmology and the XIIth UAE Ophthalmic Conference (PAACO 2005), held in Dubai, April 2005. He was in the editorial board of British Journal of Ophthalmology (Middle East KSA Edition)
He has earned many accolades in his career, which includes Distinctions in 3rd MBBS in Ophthalmology & ENT, Preventive & Social Medicine. International Ophthalmologist Education Award (IOEA) from American Academy of Ophthalmology in 2009 Vikas Ratna Shiromani Award – for excellent achievement and selfless service in his field.International Ophthalmology Scholar Award (IOSA) from American Academy of Ophthalmology in 2012. Oscar Award – Surgical Video Conference – EPOMEC 2019.
His achievements testify for his expertise and knowledge in the field of Opthalmology.
Made Possible By: