Root Canal Disinfection Challenges & Solutions
AEEDC Webinars
December 16, 2020 - 17:00 - 18:00
Topic Description :
Root Canal Disinfection Challenges & Solutions
Learning Objectives:
Describe the challenges facing the operator during root canal disinfection.
State the ideal requirements of root canal irrigants.
Discuss the uses, advantages, disadvantages of different root canal irrigants.
Describe different techniques for delivery and activation of root canal irrigants.
Identify the role of different intracanal medicaments in endodontics.
Abstract:
Chemical disinfection of the root can system is now the gold standard of modern endodontic therapy. Even though we have new and sophisticated file systems in the market, the key to endodontic success is based on chemical disinfection. In this presentation I am going to review the properties, advantages, disadvantages of the most commonly used root canal irrigants and intracanal medications used for root canal disinfection.
Introduction:
 Mechanical debridement of the root canal system is done with the use of either hand instruments or rotary nickel-titanium instruments which helps in removal of vital and necrotic remnants of pulp tissue, microorganisms, and microbial toxins.
The root canal system has been found to be very complex with anastomoses, cul-de-sacs, and deltas which are difficult if not impossible to clean completely. This region may accumulate necrotic tissues, microorganisms, and their by-products resulting in persistent periradicular inflammation, Therefore, root canal irrigation by using various chemical agents and inter appointment medications is an essential part of debridement as it allows for cleaning more than what might be achieved by root canal instrumentation alone.
Speaker :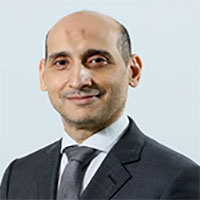 Dr. Bassem Mohamed Mahmoud Eid
PhD, MSc, BDS
Associate professor Endodontics,
MDS Endodontics Program Director
College of Dentistry
Gulf Medical University – UAE
Bio:
Dr. Bassem Mohamed Eid is an Egyptian who was born in 1974, currently he is working as Associate Professor of Endodontics, College of Dentistry, Gulf Medical University, Ajman, United Arab Emirates.
Dr. Bassem has worked for 4 years in AlFarabi Private College of Dentistry, Jeddah Saudi Arabia as Assistant Professor in Endodontics from 2015 – 2019. Before Dr. Bassem worked in Egypt as resident in Suez Canal University then as Assistant Lecturer and Assistant Professor in Misr University for Science and Technology from 2007 to 2014.
Dr. Bassem has many publications in the field of Endodontics and have shared in many conferences and workshops in Egypt and Saudi Arabia.
PhD in Endodontics, Suez Canal University, Egypt
MSc Conservative Dentistry, Suez Canal University, Egypt
BDS Oral Surgery and Dental Medicine, Cairo University
Accreditation

INDEX Conferences and Exhibitions Organisation Est. is an ADA CERP Recognized Provider. ADA CERP is a service of the American Dental Association to assist dental professionals in identifying quality providers of continuing dental education. ADA CERP does not approve or endorse individual courses or instructors, nor does it imply acceptance of credit hours by boards of dentistry. INDEX Conferences & Exhibitions Organisation Est. designates this activity for 1 continuing education credits.