Non-surgical treatment for Gastroesophageal reflux disease (GERD) ENDOSCOPIC FUNDOPLICATION
ِِIFM Webinars
November 18, 2021 - 16:00 - 17:00
Topic Description :
Non-surgical treatment for Gastroesophageal reflux disease (GERD) ENDOSCOPIC FUNDOPLICATION
Speaker :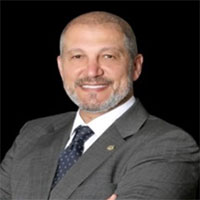 Dr. Emad Fayyad
Head of Gastroenterology and Hepatology Department
Medcare Hospital,LLC, Dubai,UAE
Bio:
PROFESSIONAL SUMMARY
I'm a gastroenterology consultant with more than two decades of experience, currently working in Medcare Hospital as Head of Department in Gastroenterology and Hepatology since October 2009. I had completed Bachelor's and Master's degree in Medicine in Romania, and was qualified for the Jordan Board Certificate in Gastroenterology. I have worked at Luliu Hatieganu University of Medicine and Pharmacy in Romania as well as in Rashid Hospital in Dubai. Moreover, I was a lecturer in the Department of Medicine at Dubai Medical College.
I am the first gastroenterologist in the Middle East to introduce the new, painless non invasive procedure which is the most advanced, and effective treatment for acid reflux patients with a disposable and sophisticated device called GerdX which is exclusively introduced to Medcare Hospital by G-Surg, a German medical solutions provider . In December 2020, I have performed the UAE's first endoscopic fundoplication procedure to treat Gastroesophageal Reflux Disease (GERD). This state-of-the-art treatment frees GERD patients from the effects of long-term dependence on proton pump inhibitors (PPI). I am performing endoscopy of the upper and lower gastrointestinal tract for diagnostic and therapeutic purposes, doing ERCP (endoscopic retrograde cholangiopancreatography), USS (ultrasonography) and EUS (endoscopic ultrasound) procedures.
I have participated in a number of professional associations such as the Emirates Society of Gastroenterology, the Jordan Society of Gastroenterology, the Romanian Society of Gastroenterology, the Romanian Society of Endoscopy, the Romanian Society Ultrasonography, the European Society of Ultrasonography and the European Society of Endoscopic Ultrasonography to stay abreast with my field.