Covid19; the IHC's Role and Accomplishments..
DIHAD Webinars
June 9,2020 - 16:00 - 17:00
Topic Description :
Covid19; the IHC's Role and Accomplishments..
Speaker :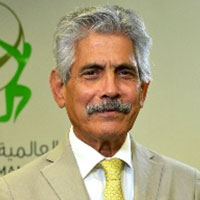 Mr. Giuseppe Saba
Chief Executive Officer of the International Humanitarian City
BIO:
Giuseppe Saba has been the CEO of Dubai's International Humanitarian City since March 2017. With over 34 years of extensive experience in the humanitarian field with the United Nations and international organizations, he is a leading logistics and support services expert.
He is also the founder of the United Nations Humanitarian Response Depot Network (UNHRD). In 2000, he set up, with the support of the UN World Food Programme (WFP), the first UNHRD in Brindisi, South-East of Italy. This served as a consortium of UN Agencies and international humanitarian organizations, which include governmental and non-governmental entities.
Following the experience acquired during the emergency response to the Indian Ocean Tsunami in 2004, he developed and expanded UNHRD into the extensive network it is today, by opening hubs and negotiating agreements with various hosting governments in Dubai, Malaysia, Ghana, Spain and Panama. As a result of his efforts, the UNHRD became one of the largest international humanitarian platforms consisting of approximately 90 partners operating in emergency preparedness and response.
Saba is an Italian citizen, born in 1951 in Sardinia. He is married and has two daughters. Since his retirement from the UN-WFP in 2013, he has served as a consultant to various humanitarian agencies including the Norwegian Refugee Council and the ASEAN Coordinating Centre for Humanitarian Assistance on disaster management (AHA Centre).