Treatment of Peri-Implant Soft Tissue Dehiscences at Single Implant Sites in the Esthetic Zone
AEEDC Webinars
June 10,2020 - 16:00 - 17:00
Topic Description :
Treatment of Peri-Implant Soft Tissue Dehiscences at Single Implant Sites in the Esthetic Zone
Abstract:
The success in implant therapy, should not be solely dependent on its long-term survival, but also on its functional, esthetic, hard- and soft-tissue stability. An apical shift of the peri-implant facial soft tissue margin has been defined with many terms throughout the literature, including mid-facial recession or mucosal recession. Many techniques, such as the coronally advanced flap, the VISTA technique, guided bone regeneration procedures, have been proposed for treating this condition. Therefore, the aim of this webinar will be discussing how to management soft and hard tissue of dental implants installed in the aesthetic zone.
Learning Objectives:
Identify and diagnose peri-implant recessions
Classify tissue deficiencies around implants in the aesthetic area
Perform an appropriate surgical and prosthetic planning for the correction of marginal recesses around implants
Decide what is the best type of gingival graft for these aesthetic corrections
identify predictors of surgical success for better planning
Speaker :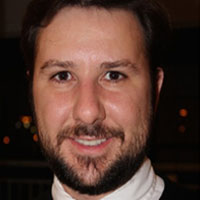 Prof. Marcelo de Faveri
DDS, PhD, Associate Professor, Guarulhos University, Brazil
Bio:
Dr. Faveri is a periodontist (Certificate and Masters degrees), received his doctorate degree (PhD) in Biomedical Science from University of São Paulo and has a Post-doctoral Fellowship from Forsyth Institute/Harvard University (Cambridge/USA).
He is actively involved in teaching and research at the Guarulhos University, in Sao Paulo, where he serves as an Associate Professor of the Master and Doctorate degree in Periodontology and Implantology.
Dr. Faveri published more than 100 international papers in peer reviewed journals and has an ISI h-index of 33.
Accredited by

INDEX Conferences & Exhibitions Organisation Est is an ADA CERP Recognized Provider. ADA CERP is a service of the American Dental Association to assist dental professionals in identifying quality providers of continuing dental education. ADA CERP does not approve or endorse individual courses or instructors, nor does it imply acceptance of credit hours by boards of dentistry. INDEX Conferences & Exhibitions Organisation Est. designates this activity for 1 continuing education credits.
Organised By