Pinhole Surgical Technique: A Different Approach to Root Coverage
AEEDC Webinars
December 20, 2020 - 17:00 - 18:00
Topic Description :
Pinhole Surgical Technique: A Different Approach to Root Coverage
Learning Objectives:
• Differentiate between initiating and modifying factors of periodontal diseases.
• Discuss gingival recession and its etiology
• Compare between Pinhole surgical technique (PST) and conventional methods of root coverage.
• List indications and limitations of PST
• Explain advantages of PST
Abstract:
Dental plaque biofilm and calculus are the main initiating factors of periodontal diseases. Gingival recession is considered one of the most serious signs of periodontitis which negatively affected the quality of life of an individual by compromising the aesthetics. Many conventional types of periodontal surgeries had been used to manage this problem but it has a number of limitations and disadvantages. In 2012 a new pinhole surgical technique (PST) has been introduced by Dr. Jhon C. Chao based on the understanding of the nature of the histology of gingival tissues.
Introduction:
Periodontitis is a multifactorial disease resulting in inflammation within supporting tissues of the teeth, progressive attachment loss and bone loss. In addition, it is characterized by Periodontal Pocket formation, Furcation involvement, mobility, change in tooth position with Food impaction and halitosis (90% intra oral causes), Gingival recession (GR) and eventually ended by tooth loss if not treated properly. Gingival recession is defined as an apical displacement of the gingival margin from the Cemento-Enamel Junction which could be hidden or visible recession. Receding gums can be the result of: Periodontal disease, Clenching, grinding, aggressive brushing habit, tobacco use, the natural aging process, anatomical/Genetics, hormones and iatrogenic factors. Most patients with receding gums do not realize that it is occurring because it happens gradually. The prevalence varied from 50-90% among populations. 88% of people over 65 years of age experience some form of gingival recession in al least one tooth. Traditionally, patients who suffered from advanced gum recession had only one treatment option: surgical soft tissue grafting. A Pinhole Surgical Technique® was published in the October 2012 minimally invasive procedure. The results of this study were as successful as traditional gum grafting procedures which require cutting and sutures.
Speaker :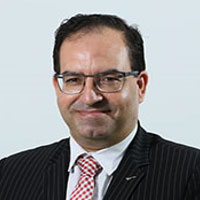 Prof. Hossam Abdel-atty Eid Abdelmagyd
BDS, MSc, DDS (MSc Med. Education)
Professor, Periodontics
Associate Dean for Clinical Affairs,
Program Director: MDS Periodontics
College of Dentistry
Gulf Medical University – UAE
Bio:
Graduated in Faculty of Dentistry, Cairo University, Egypt. Master and doctor degrees Oral Medicine & Periodontology, Suez Canal University. Master in Medical Education, Gulf Medical University, UAE
Professor &Associate Dean for Clinical Affairs, Supervisor of Postgraduate Studies, College of Dentistry, GMU, UAE
Program Director: MDS Periodontics
Program Director: Dental Internship
Head of Quality Assurance and Program Evaluation Committee, College of Dentistry, GMU, UAE
Member of GMU University QA & PE Standing Committee
Member of Assessment committee, College of Dentistry, GMU, UAE
Member of Curriculum Development Committee, College of Dentistry, GMU, UAE
Accreditation

INDEX Conferences and Exhibitions Organisation Est. is an ADA CERP Recognized Provider. ADA CERP is a service of the American Dental Association to assist dental professionals in identifying quality providers of continuing dental education. ADA CERP does not approve or endorse individual courses or instructors, nor does it imply acceptance of credit hours by boards of dentistry. INDEX Conferences & Exhibitions Organisation Est. designates this activity for 1 continuing education credits.