TMJ Disorders and Smile Design
AEEDC Webinars
October 18, 2020 - 16:00 - 17:00
Topic Description :
TMJ Disorders and Smile Design
Abstract:
This lecture is specifically designed for dental professionals to gain knowledge in Temporomandibular Joint (TMJ) disorders and foundation of smile designing. We will discuss the diagnosis of TMJ disorders by basics of a quick clinical examination, when to use or not to use restorative tools in the treatment of TMJ disorders, how to restore vertical dimension in bruxism patients and do smile makeover as well as other treatment modalities for TMJ disorder patients. This lecture will also uncover the insights of interdisciplinary aesthetic treatment planning, functional and esthetic dental treatment by principles of smile designing.
Learning Objectives:
History taking is a magic tool in the diagnosis of TMJ disorders
Evaluate objective clinical testing methods for TMJ Disorder conditions
Construct an accurate diagnosis of TMJ Disorders and treatment planning
Perceive information about interdisciplinary aesthetic treatment planning and when to use restorative tools or when to leave it
Orofacial Pain Specialist, Prosthodontist, Orthodontist, or Periodontist, or combination of these four might be required
Discuss basic principles of smile designing
Maximum and predictable communication between specialists is discussed along with functional and aesthetic dental treatment
Speaker :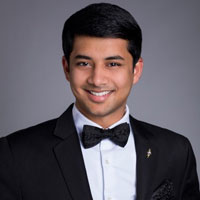 Dr. Amey G. Patil
BDS, MSD, FACD
Cosmetic Dentist, Orofacial Pain Specialist, Clinical Instructor, Faculty, Dept of Restorative Dentistry – Rutgers School of Dental Medicine, USA
Bio:
Dr. Amey G Patil completed his Bachelor of Dental Surgery (BDS) from Maharashtra University of Health Sciences, Nashik, India. He has successfully completed his Master of Science in Dentistry (MSD) degree in September 2016 from the Rutgers School of Dental Medicine, Newark, USA. He served as the Chief Resident of the Center for Orofacial Pain and Temporomandibular Joint (TMJ) Disorders, Department of Diagnostic Sciences. He completed a Fellowship in Aesthetic and Cosmetic Dentistry (FACD) from New York University College of Dentistry, New York City, USA. He served the Department of Oral Biology, Diagnostic Sciences, and Restorative Dentistry as a Research Teaching Specialist and currently working as an RBHS Instructor – Faculty in the Department of Restorative Dentistry and Diagnostic Sciences, Center for Orofacial Pain and TMJ Disorders at Rutgers School of Dental Medicine, Newark, New Jersey (USA).
Accreditation

INDEX Conferences and Exhibitions Organisation Est. is an ADA CERP Recognized Provider. ADA CERP is a service of the American Dental Association to assist dental professionals in identifying quality providers of continuing dental education. ADA CERP does not approve or endorse individual courses or instructors, nor does it imply acceptance of credit hours by boards of dentistry. INDEX Conferences & Exhibitions Organisation Est. designates this activity for 1 continuing education credits.
Organised By