Advantages and Limitations of Computer-Guided Implant Surgery
AEEDC Webinars
February 15, 2021 - 17:00 - 18:00
Topic Description :
Advantages and Limitations of Computer-Guided Implant Surgery
Learning Objectives:
• Explain the concept of computer guided implant surgery.
• List the steps involved in creating a surgical guide.
• Discuss the advantages of using the computer software in virtual planning
• Identify situations in which surgical guide might lead to surgical errors.
Abstract:
 Aim:
 Computer Guided Implant Surgery refers to the fabrication of a surgical guide that dictates the positions and angulations of implant during insertion based on a virtual implant planning that is mainly prosthetically driven. The aim of the presentation is to highlight the sources of different errors that might be incorporated and affects the accuracy of implants' placement via guided surgery.
 Introduction:
 A surgical guide that is fabricated through computer-aided design and computer-aided manufacturing (CAD/CAM) or laboratory-based conventional procedures has been used in an attempt to increase the accuracy of implant placement. Computer-guided surgery enables flapless implant insertion, and reduces the surgical time, postoperative pain, and swelling. It can facilitate the immediate insertion of prefabricated fixed prostheses, which improves patient satisfaction. Furthermore, it can achieve higher precision and accuracy in cases of high aesthetic demand and insufficient bone height.  However, it involves an increase in planning time and additional costs relating to the planning software and the production of the stereolithographic surgical guide.
In 2012, as a part of third European Association of Osseointegration (EAO) conference on computer-guided surgery, a group of eminent members analysed two systematic reviews and a meta-analysis on the accuracy of guided surgery.  They concluded that "Guided surgery does not guarantee a precise implant placement. The authors reported a mean deviation of 1.09 mm at entry, 1.28 mm at the apex, and 3.9° in angulation of implants inserted using guided surgery techniques.  In the horizontal and vertical directions, the mean error was 1.2 mm and 0.5 mm, respectively. Precision in implant placement, when a stereolithographic surgical guide is used, depends on multiple factors that lead to cumulative and interactive errors, from data-set acquisition to the surgical procedure.
The first group of errors is incorporated during the fabrication of the stereolithographic surgical guide, such as errors in cone-beam computed tomography (CBCT) image acquisition, surface registrations of the CBCT, and the dental record. The second group of errors is related to the type of guide support during surgery, which could be bone, mucosa, or tooth support. Multiple studies have confirmed that the magnitude of error increases when bone-supported guides are used, whereas a tooth-supported template for the treatment of single missing teeth results in greater accuracy of implant positioning than with mucosa-supported or bone-supported templates.  The third group of errors emerges during surgery, which could be either fully guided or partially guided.  The partially guided surgery involves one or more steps of freehand drilling and freehand implant insertion.  More accurate results are achieved with the fully guided surgery approach.
Speaker :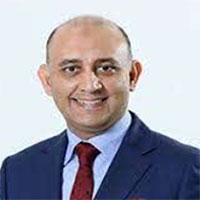 Prof. Hesham Fathi Ahmed Marei
MSc, FDS (RCS-Eng.), DDS (OMFS), PhD (Med Education)
Professor of Oral and Maxillofacial Surgery,
Dean, College of Dentistry,
Gulf Medical University – UAE
Bio:
Prof. Hesham Marei is a Professor of Oral and Maxillofacial Surgery. He graduated at Cairo University in 1997, and then received his Master and Doctoral Degrees in Oral and Maxillofacial Surgery from Suez Canal University, Egypt. Dr. Marei has completed his clinical oral and maxillofacial surgery training at Cardiff Dental School, UK and obtained his Fellowship in Dental Surgery in 2006 from the Royal College of Surgeons in London.
Moreover, Dr. Marei has a passion in medical education. Such passion derived him to obtain another Master's Degree in Medical Education in 2012 and a PhD in the Health Professions Education in 2018 at Maastricht University, the Netherlands. Dr. Marei PhD thesis is about the use of computer simulation in dental education.
Before moving to UAE, Dr. Marei has taken different academic and clinical positions in UK, Egypt and Saudi Arabia. Dr. Marei last position was Associate Professor and Consultant of Oral and Maxillofacial Surgery at Imam Abdulrahman Bin Faisal University, where he was awarded the best medical teacher for his academic excellence. Dr. Marei has also been involved as a subject matter expert in building different E-learning platforms that serve both the dental students and the profession. Moreover, he has provided consultation services to private and governmental dental colleges seeking national and international accreditation.
In research, Dr. Marei has over 35 publications in internationally recognized journal and his research focus is on the applications of 3D printing technology in dentistry, the effect of chemotherapy on bone healing, osseointegration of dental implants, use of virtual patients in dental education and medical professionalism. Dr. Marei has actively contributed with presentations, workshops and courses in both specialties at several national and international events in Egypt, Saudi Arabia, Bahrain, UAE, Pakistan, the Netherlands, UK and USA.
Accreditation

INDEX Conferences and Exhibitions Organisation Est. is an ADA CERP Recognized Provider. ADA CERP is a service of the American Dental Association to assist dental professionals in identifying quality providers of continuing dental education. ADA CERP does not approve or endorse individual courses or instructors, nor does it imply acceptance of credit hours by boards of dentistry. INDEX Conferences & Exhibitions Organisation Est. designates this activity for 1 continuing education credits.
Organised By